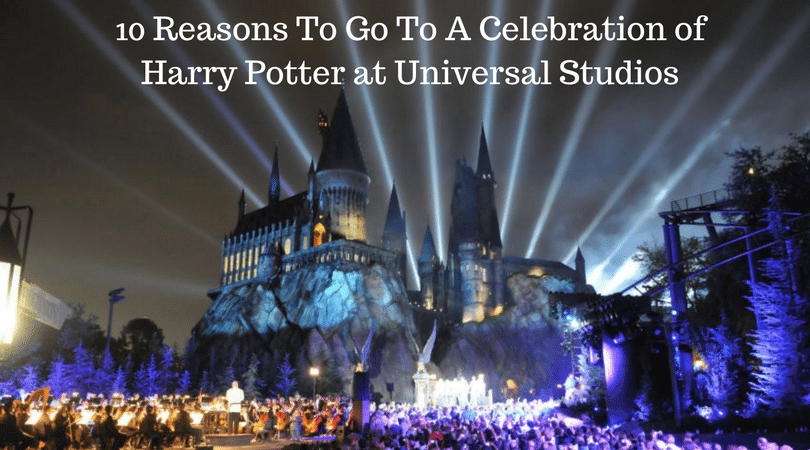 10 Reasons To Go To A Celebration of Harry Potter at Universal Studios
A Celebration of Harry Potter is a yearly expo that takes place at Universal Orlando you'll have the chance to see some of your favorite actors from the Harry Potter™ films. Plus, enjoy interactive question and answer sessions with select film talent to discover what it was like to work on one of the most successful franchises in history, but above all, it gives all of us Harry Potter fans a place to belong. If you happen to love Harry Potter, then you are in luck.
Here are ten perfectly good reasons you're going to LOVE Harry Potter Celebration.
1. You get to breathe the same air as the stars!
For many young fans, this was their first time seeing a celebrity and I saw many people who were simply starstruck.
2. SWAG. FREEBIES. FREE STUFF.
The best thing are the gorgeous print they gave us. Honorable mention to the paper house ties. I love this kind of stuff because it's easy to bring your friends back home something!! Cursed Child Postcards? Harry Potter coloring pages!! Photo props!! All FREE (with admission)
3. You can embrace your inner wizard personality.
I saw many people taking it above and beyond, dressing in Wizarding World Clothes that would have the costume designers of the movies jealous! I thought I did a great job with my outfits, but I'll need to step it up next year!
4. You can Cosplay.
Feeling confident to go beyond Wizard looks? Dress as your favorite character and get endless attention and people asking for photos. These are just a few of the really great ones I saw! I never even thought how cool it would feel to dress as someone from the movie and then get pics in Diagon and/or Hogsmeade!! Now to think of who to be!!
5. You get to hear personal stories from the creators of the movies.
Lots of people worked on the movies and the parks. They literally stand up and tell you where their ideas came from, how cool it was to work with J.K. Rowling and others.
6. You get to nerd out with a bunch of people who totally get you.
 A little montage, and all the wizards and witches in the audience raised their wands. Full. Body. Chills. And not gonna lie, I totally teared up. The feeling in the air was pure magic.
7. 2 words. Butter Beer.
Drink your weight in the many varieties of Butter Beer, and LIVE THE MAGIC.
8. You can get sorted by the real sorting hat.
Not sure where you fall? Let the sorting hat help you figure it out and make a literal dream of yours come true! It talks, it READS YOUR MIND. And don't be scared off by the child in the pictures, there were more adults in line than children.
9. Special Merchandise
Looking to buy Dumbledore's Cup? Maybe a prop replica? They have it all. They even have event specific merchandise (of course). But the artwork is top notch and I came close to buying a 1 or 5 things.
10. Surprises
The event held several lovely surprises.
Via micechat.com
This year's A Celebration of Harry Potter will also include Harry Potter film trivia and, for the first time, a Fan Art Walk where guests can draw Wizarding World-inspired chalk art. Guests will have access to Universal Orlando's attractions throughout the weekend, including The Wizarding World of Harry Potter – Hogsmeade and The Wizarding World of Harry Potter – Diagon Alley.
Access to A Celebration of Harry Potter is included with regular theme park admission or with an annual or seasonal pass. Certain activities are first-come, first-served. Exclusive event vacation packages are also available for purchase.
So what do you think? Do I make a convincing case for going to Harry Potter Celebration? Are you planning to go to Harry Potter Celebration in 2017? I'm gonna start working on my outfits!