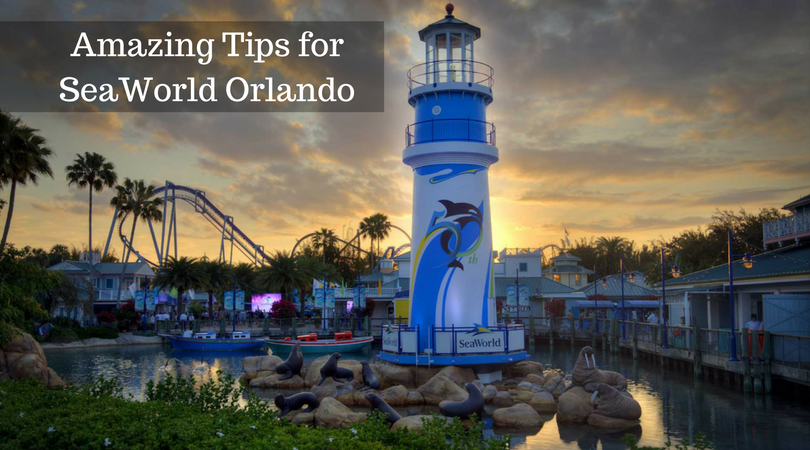 Amazing Tips for SeaWorld Orlando
SeaWorld Orlando is one of the big four Orlando theme parks, but for those who have never been, it's a bit different than the character focused Walt Disney World, Universal or LEGOLAND parks.
To get the most out of a theme park experience, it helps to know a few secrets; those tidbits that veterans have discovered over time.
Free Souvenirs
One of my son's favorite things to do at SeaWorld is collect trading cards, which essentially are free souvenirs. Find a Sea World education representative, they are located at all the animal locations, and either ask them a question, or give them some information about the exhibit in exchange for a free card.
Knowledgeable Teachers
It was wonderful to my normally shy son coming up with thoughtful questions or scouring the signs to make sure he had the right answer to get a card. Sea World staff are incredible thoughtful with the kids, and encourage the shy ones to speak out.
Limited Edition Cards
Depending on when you go, you can get limited edition cards for specific special events, or general cards about the various animals at Sea World. It's a great way to remember your trip, and learn a little something too.
Award Winning Restaurants
Sharks Underwater Grill is a sit down restaurant inside the park where you can watch sharks and other sea creatures while you eat, giving guests a different view of the oceans. Sharks Underwater Grill has been recognized amongst the best of the best restaurants in Orlando.

Behind the Scenes Tours at SeaWorld Orlando
Day in the Life of a Trainer
For anyone looking to get up close and personal with the animals at Sea World Orlando, the behind the scenes and animal interaction tours are a must. These special tours allow guests to go behind theme park walls and experience Sea World from a trainer's perspective.
The behind-the-scenes tour times aren't listed in the park map, so book online before you go, or stop by the tour desk right inside the front gate as you come in. These experiences are a special ticket, but add a lot to your day, so if it's in your budget, it's worth it to plan at least one.
Penguin Pets
When I was little, I wanted a monkey. After petting the Emperor penguin; I've changed my mind, I want a penguin. He was as soft as a puppy and just as cute. Our experience was part of the Penguins Up Close Tour and the highlight of an educational adventure where you'll see how the penguin keepers track and care for these arctic creatures. Beware, it is COLD in this exhibit, so you might want to pack a sweatshirt.
Dolphin Rescue
On a regular Sea World behind-the-scenes tour began with a look at the Sea World Orlando animal rescue area. We learned that SeaWorld rescues approximately 20,000 animals a year, including 523 sea turtles. We took a look at the trucks used to transport dolphins and other large animals and I felt like I was prepping for a scene in Dolphin Tales or Free Willy.
Touch a Shark
The next stop on our behind-the-scenes tour included a lesson on sharks, and we were able to touch a small shark. It's skin is smooth when you run your fingers down his back, but feels like sandpaper when you go back up.
No Guarantees
Our Garfield sighting was on our way to the polar bear den. Unfortunately we didn't see a polar bear. There are no guarantees on the tour. However, we did get to meet and touch Edward, a Magellanic Penguin. These penguins live in warm areas along the Equator all the way south to frigid Antarctica.
Conservation Donation with Every Ticket
Most Sea World Orlando behind-the-scenes tours last approximately 90 minutes. There is a bit of walking, but for longer jaunts you take an open-air bus. Theme park admission is required for the tours and is not included in the tour price. However, 10 percent of tour admissions are donated to the SeaWorld & Busch Gardens Conservation Fund to support conservation projects around the world.
SeaWorld Orlando Rescue
SeaWorld Rescue
The Sea World Animal Rescue team works with state, local and federal agencies to rehabilitate to help animals that are orphaned, ill, injured or in need of expert care.
See the Manatee
During a separate behind-the-scenes tour we caught a glimpse of rescued manatees. On our visit, there was a baby manatee feeding. It was adorable to watch this infant who was abandoned and would surely have died, wrapping its little flippers around the bottle, just like a human baby.
Those manatees that cannot return to the sea for whatever reason, find a home in the Turtle Trek exhibit where guest can glimpse these gentle giants either from above or below the water level.
Rescued Manatee
The main causes of death for manatee are human related, such as habitat destruction, and ship strikes. I followed up on the manatee calf we saw during our visit.
Thecalf was recused on July 21 in Port St. John, FL. We saw her in mid-August when she was about a month old and caretakers were feeding her a special formula every three hours around the clock. The rescue team was unsure if the calf would survive. She was brought in at only 48 pounds.
At nine weeks-old, she was responding well to treatment and almost ready to start eating solid foods, which for a manatee is mostly lettuce. She weighed 71 pounds and caretakers were more optimistic, although she still received round-the-clock care, including regular bottle feedings until she's ready for solid foods. I never hear if she is back into the wild, but the chances were good.
Animal Rescue Staff
The dedication by SeaWorld staff to the baby manatee was mirrored by penguin caretakers.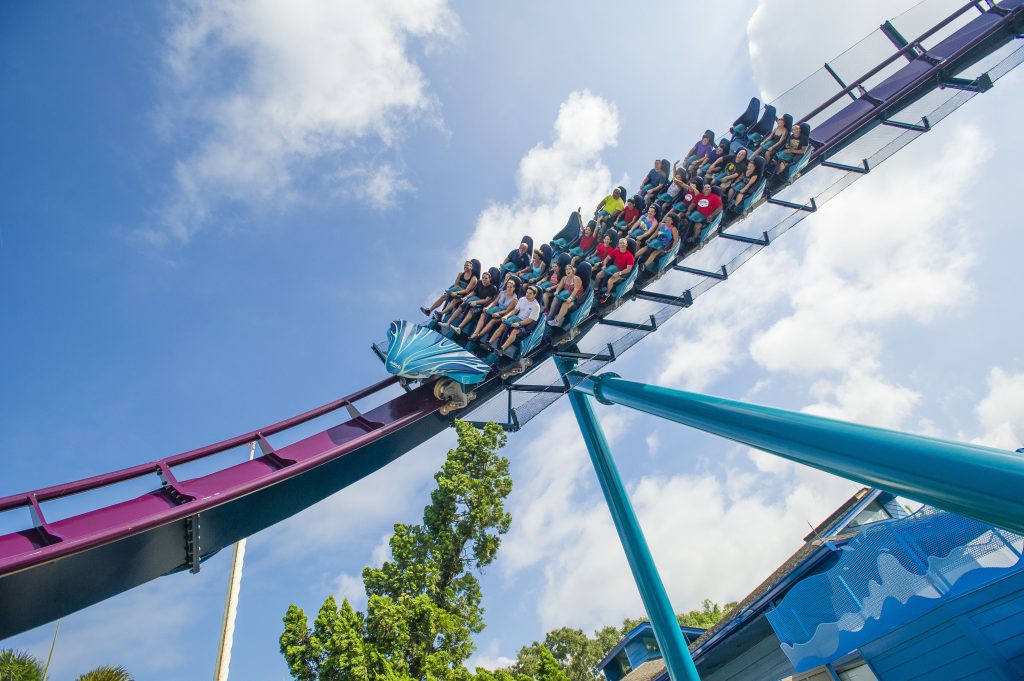 Sea World Orlando Rides
For a complete list of Sea World rides, visit the Sea World Orlando website, but here are some of the big ones and some of our favorites, as well as some tips to keep in mind.
Roller Coasters at SeaWorld Orlando
Manta, Kraken, and Mako are the three big roller coasters. You must be 54" tall to ride these and they're serious about that height. Not only are kids measured on a stick, if it's close, they'll make you stand under a swinging rod. If the rod can swing at all, you're not tall enough for the ride. It may be just as well. Kraken goes upside down seven times and Manta was described to me as so many twists and turns you don't know where you are at the end. Mako is a steel hypercoaster. Touted as the tallest, longest and fastest roller coaster in the Orlando theme-park
Virtual Reality
Sea World Orlando will be bringing the virtual reality experience to the park. In 2017 they will add VR to the Kraken. In addition to the multiple inversions, Kraken rises 149 feet, hitting 65 mph. Unlike the VR roller coasters we've done at Six Flags Over Georgia, Kraken is developing a custom system so you can just pull your lap bar down and put on your googles. 
Visit Atlantis
Another popular thrill ride is Atlantis. This combination roller coaster, log flume is down every January for maintenance – which was a bummer since we went in January. However, if you go any other time, choose your seat wisely, if you sit in the front eat, you will get drenched.
Grab a locker
 If you are carrying a purse or backpack, bring some change with you. You may not carry anything on these rides and must use the one-time lockers outside the queue area.
For the Little Ones
If your children are too small, or timid to ride the big coasters (nothing wrong with that), then head to Shamu's Happy Harbour. Even the adults had a great time climbing the gianormous climbing net.
Character Visits
 Sea World Orlando does have some fun characters, although not as well known as other Orlando area theme parks. If you want to see these folks, catch them from 9 am – noon near the front gate. 
SeaWorld Orlando Rides to the Animals
Visit the Wild Arctic
 There are a few continuous running shows with an attraction/ride included. Wild Arctic has a simulator ride at the beginning, very similar to Star Tours at Hollywood Studios. You can opt to bypass the simulator part and head straight to the well themed polar research station where you'll see arctic animals like polar bears and walrus.
Take a Turtle Trek
 Turtle Trek begins with a 3D, 360-degree theater presentation before heading into the tank areas. Make sure to hit Turtle Trek before or during the Dolphin show at the Horizon Theater. Lines at this attraction are significantly longer right after the Dolphin show, as the Horizon Theatre lets out right in front of the Turtle Trek entrance.
Antarctic: Empire of the Penguin
 This simulator ride takes you through the Antarctic as a penguin named Puck. It's a cute ride, but the real fun begins when you reach the south pole and the plethora of real penguins. If you plan to spend any time in here, bring a sweater, it can get a bit chilly. This is a great place to come in the middle of the day when it's super hot in the Orlando heat.
Feed the Animals at SeaWorld Orlando
At Sea World, you can feed the dolphins, rays and sea lions, so bring a little extra cash. Watch out for the birds that hover over the feeding areas. They are quite aggressive and if you aren't careful, you could be feeding birds rather than sea life.

SeaWorld Orlando Shows
SeaWorld Shows
SeaWorld Orlando has always been known for animal shows. To make sure you see everything, get a show schedule online before you enter the park and determine when you'll go to each show, then plan the rest of your day around them. 
Arrive Early
To get the best seat for the Sea World Orlando shows, plan to arrive at least 30 minutes before the show begins to get a seat in the theatre, on busy days 45 minutes. The most crowded shows are mid-day, so visit early or late for smaller crowds.
Clyde and Seamore's Sea Lion High
My children's favorite show at Sea World Orlando was Clyde & Seamore Take Pirate Island. It was funny, silly and we all liked the sea lions and walrus. That show has since changed to Sea Lion High, but from watching the videos, it's just as fun and funny.
 Dolphin Days Show
 Dolphin Days is a festive celebration of our natural world starring the ocean's most playful ambassador, the Atlantic Bottlenose Dolphin.
The Splash Zone
 Most shows have a splash zone in the first few rows. If you don't want to get wet, sit up higher in the stadium.
Good To Know about SeaWorld Orlando
Bathrooms for Little Ones
This has nothing to do with the animals at Sea World, but when you are traveling with a small person who isn't far out of diapers, having a potty their size is a huge advantage and worth talking about. At Sea World there are kid sized bathrooms in the Shamu Happy Harbor section of the park.
Food Allergy Assistance
For those with food allergies, I noticed gluten and allergy free snacks at the quick service restaurants. In addition, you can speak with a chef at any of the restaurants during non-peak hours, let him know about your allergies and a special meal can be prepared.
A guest can also download "Chef Cards" in advance of their trip and hand them to a chef before the preparation of the meal. Note that not all restaurants or food service counters will be able to accommodate your specific allergen free meal, so it's best to do some research before you arrive and talk with chefs early in your visit.
Sea World Orlando Hours
Although Sea World is open year round, SeaWorld Orlando hours can change by the season so be sure to check the website to plan your day. You can also find out the shows times, which you'll want to work in so you don't miss anything.
SeaWorld Orlando tickets
SeaWorld Florida has a couple different ticket options and Sea World ticket prices vary. It's best to go ahead and get your tickets before you get to the park, that way you'll save time waiting in ticket lines. To find SeaWorld discount tickets click here: https://goo.gl/wQi1oA

Sea World Family of Theme Parks
In addition to main Sea World Orlando theme park, Sea World has Sea World Aquatica, an Orlando water park, Discovery Cove and Busch Gardens Tampa
SeaWorld Aquatica
If you get tired of watching all the animals in the water and want to hit the pool yourself, try SeaWorld Aquatica, the SeaWorld water park. This is probably one of the lesser known water parks in Florida. We had a lazy day riding the water slides. We did add some thrill to the day by trying Ihu's Breakaway Fall, where the floor literally drops from under you sending you careening through the twisting slides.
Discovery Cove
I have never been here but hear fabulous things about the animal encounters.
Busch Gardens Tampa
My son and I had a tremendous time at Busch Gardens Tampa. It's the mammal version of SeaWorld Orlando. My two favorite experiences were feeding the giraffes, and the overly friendly flamingo that kept tapping my son on the head. You can get a free shuttle (free with a Busch Gardens paid admission ticket) from most Orlando area hotels.