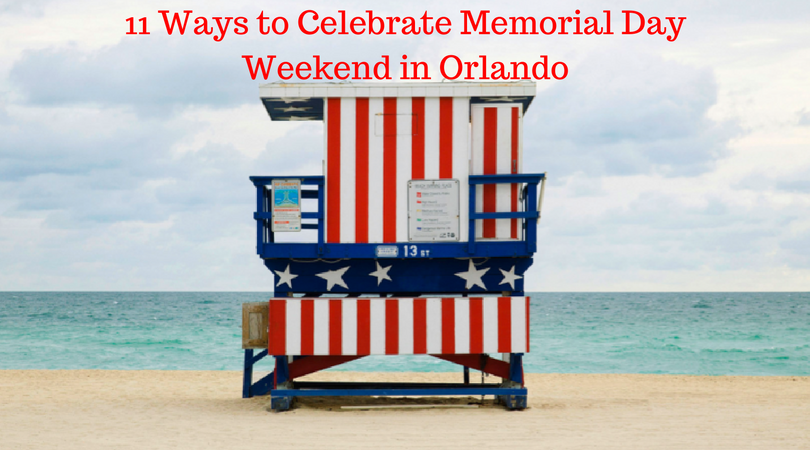 11 Ways to Celebrate Memorial Day Weekend in Orlando
Make this Memorial Day weekend memorable by adding one or a few of these must-do experiences to your calendar.

1. Disney World
Obviously, the sheer number of guests who will travel to Orlando for Memorial Day weekend will visit the Walt Disney World Resort. The largest theme park resort in the world, The Walt Disney World resort in Lake Buena Vista will make your holiday weekend an unforgettable one. And to make it more memorable, Pandora World of Avatar officially opens on May 27, so do not miss it! And you will get to experience the new fireworks show "Happily Ever After" that debuted in May 2017.
2. SeaWorld Orlando
Of course, you can't come to Orlando for Memorial Day weekend and not hit up one of the city's world-famous theme park resorts. If you want education to go along with pulsating rides, take the family to SeaWorld Orlando where you and your family will learn about the amazing animals that live in the world's oceans and will also allow you to ride some of the most thrilling rides in Central Florida. The newest attraction is Dolphins Days which just recently opened for your delight.
3. Universal Orlando Resort
Universal Orlando Resort, located in Orlando, Florida, is a theme park resort containing two action packed theme parks and a third one called Volcano Bay opening on May 25, 2017; a hopping nightlife district (CityWalk), and numerous resort hotels that will make Memorial Day weekend one to remember.

4. Florida Springs
While the pre-summer heat keeps our body temperatures on the rise, nature has blessed Florida with a soothing way to cool down.Flowing springs with temperatures usually in the low 70s during the summer dot the Central Florida landscape. But they're certainly more than just nature's swimming pools. Locals and visitors rush to the cool waters for canoeing, kayaking, tube floating, manatee watching, scuba diving, snorkeling, picnicking, nature walks and more. Silver Glen Springs, Blue Spring, Wekiwa Springs and Alexander Spring offer nature at its finest, with plenty of chances to see the wild creatures that live in and around the waters.
5. Daytona International Speedway
Memorial Day weekend in Daytona Beach is going to be 100% country. This weekend will kick off for the second time the Country 500 Music Festival at Daytona International Speedway, a weekend long event that will bring some of country music's top acts to this legendary venue for a rocking good time.
6. Orlando Fringe Festival
The Orlando Fringe Festival has become a Memorial Day weekend tradition in Central Florida. Held at Loch Haven Park (900 East Princeton Street, Orlando), the Fringe is one of the largest arts festival in the United States and is worth a visit for the whole family.

7. MegaCon Orlando
If you are a comic book fan or know somebody that is, then taking them to Orlando for Memorial Day weekend will be one of the highlights of their lives. MegaCon Orlando is one of the largest comic conventions in America and the Orange County Convention Center will be transformed into a comic wonderland for all to enjoy.

8. Clearwater and Cocoa Beaches
Hitting the beach or springs has always been a classic pastime of Florida vacations. Just 45 minutes to the east of Orlando lies the beaches of Cocoa Beach, if you want to experience the waves. The other option is to drive west of Orlando for 90 minutes to relax on the white sugary sands and swim in the clean turquoise waters of Clearwater beaches.
9. Ride the Orlando Eye
Take a ride on the Orlando Eye and watch the sun set over the horizon. This 400-foot tall giant Ferris wheel will take you over the skies of International Drive in Orlando. This is the largest observation wheel on the east coast and offers breathtaking views of the theme parks, downtown Orlando and more. You are not going to want to miss out on the views you can only get from atop the Orlando Eye.

10. Take a Hot Air Balloon Ride
You get to see the sun set from the Orlando Eye, now you can see the sun rise from the comfort of a hot air balloon. Go on an early morning adventure with Orlando Balloon Adventures. During your ride you will see spectacular views of the sun rising over the east coast of Florida, the theme parks down below and all of Florida's beautiful landscapes.

11. Visit Old Town
Kissimmee has always touted itself as the gateway to Walt Disney World and Orlando's famed theme park attractions. While that's a great thing to tout, don't overlook one of the town's biggest attractions in Old Town (5770 West Irlo Bronson Memorial Highway, Kissimmee). An eclectic entertainment district, Old Town is the home to shops, restaurants, Fun Spot amusement park, and record-breaking thrill rides such as the Skycoaster, the tallest free-fall ride on the planet.