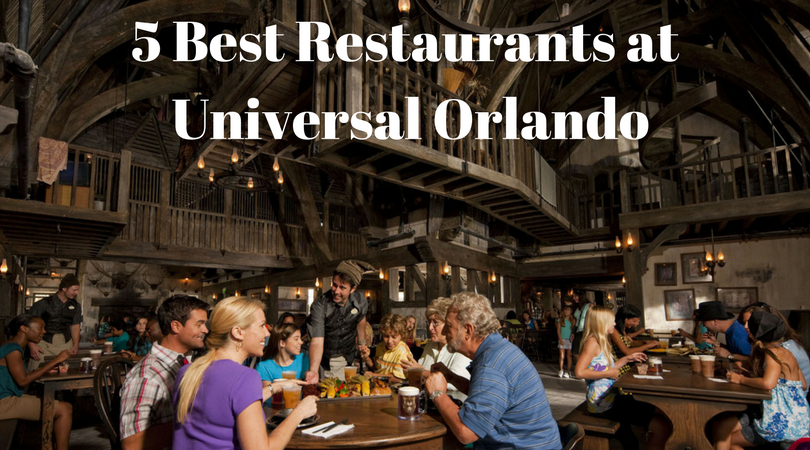 5 Best Restaurants at Universal Orlando
Universal Studios Florida and Islands of Adventure feature lots of exciting rides and lands to explore. The line-up of dining options is no different. In addition to the traditional theme park fare of burgers, hot dogs and chicken fingers, you can also feast on unique and excellent cuisine – if you know where to look. Here's our roundup of the greatest restaurants at Universal Orlando.
1. Finnegan's Bar & Grill
Step off Universal Studios' New York streets into this traditional Irish-American pub that whisks you away to the Emerald Isle. Finnegan's is both a lively bar and a full-service restaurant. Featuring authentic Irish dishes like Bangers and Mash, Shepherd's Pie, and Guinness Beef Stew as well as classic burgers, salads, and steaks, this delicious destination offers a wide array of options to pair with your favorite pint.
For a festive feel, Finnegan's often showcases live music. Settle in and sing along to traditional pub songs—and maybe even learn some new ones.
2. Leaky Cauldron
The Leaky Cauldron™ is a small, grubby-looking pub and inn. In Harry Potter and the Prisoner of Azkaban, Harry stayed there for several weeks over the summer before heading off to Hogwarts™ for his third year.
Once inside, you'll find yourself under a cathedral ceiling with views towards the guest rooms in the inn. Menu items include Bangers and Mash, Fisherman's Pie, Toad in the Hole, Ploughman's Platter, and more, plus a Kid's Menu offering Fish And Chips, Macaroni Cheese, and Cottage Mini Pie.
3. Three Broomsticks
This rustic tavern is the place to go for good food, friendly conversation, and of course—a Butterbeer™. The cosy, snow-capped inn is the place where Harry Potter™ had his first taste of the sweet wizarding drink. Through the centuries, the Three Broomsticks™ has welcomed countless Hogwarts™ students including Harry and his friends.
Inside you'll notice details such as cast-iron chandeliers, weathered wood beams, and balconies brimming with curious bric-a-brac. Take a seat and have your fill of tasty British fare including 'The Great Feast', Fish And Chips, Shepherd's Pie, Cornish Pasties, Turkey Legs, and Fresh Vegetables.
4. Mythos Restaurant
As you approach the towering rock formations, cascading waterfalls and ancient figures carved into the side of Mythos, you know you're in for a dining experience unlike any other. This award-winning, full-service restaurant offers exceptional modern cuisine in a setting that sparks the imagination. The cavernous interior creates the feel of a craggy grotto on a distant ocean. In addition to an indoor dining room, you'll find outdoor seating with a spectacular view of the park's inland sea and colorful lands. 
Featuring a mix of Mediterranean, Asian and American fare, Mythos' casually elegant menu includes options like Greek salad, pad Thai, wraps, burgers, and more. There's also a separate children's menu for little ones. Indulge in an outstanding dessert or selection from the full wine list to make your time spent in this mythical space even more sublime.
5. Confisco Grille
As explorers, merchants, and adventurers from around the world pass through the Port of Entry™, they not only bring with them strange and unusual items, but also the delicious exotic foods you'll find on the menu at Confisco Grille. 
Choose from global fare including Italian, Mexican, Asian, Greek, and American dishes like wood-grilled pizzas, salads, fajitas, and much more. With a children's menu and full bar service, Confisco Grille™ has something to fill up the whole family. Look around to see "confiscated" goods on display from all over the park.