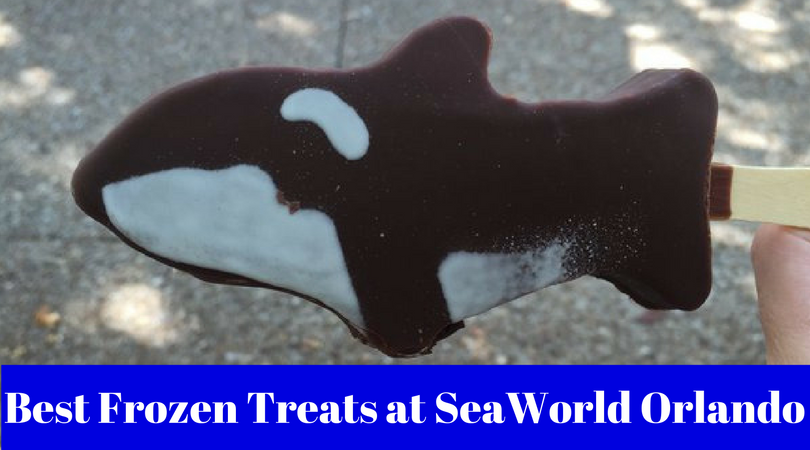 Best Frozen Treats at SeaWorld Orlando
When spending a fun day at SeaWorld Orlando, watching the entertaining shows, enjoying thrilling rides and seeing amazing aquatic animals, don't forget to take a moment to treat yourself. SeaWorld is home to some of the most delectable frozen snacks in Orlando, including a few so big you're going to need to bring some friends to share it with. Some are even original creations you won't find anywhere else.
Here's our list of the top 5 frozen treats to try at SeaWorld Orlando.
1. Shamu Brownie Sundae‬
Go all out with this fun and customizable sundae served in a souvenir Shamu bowl. Choose from vanilla, chocolate or swirl soft serve ice cream that's placed between two large fudge brownies. It's covered in whipped cream and any one fun topping of your choice. Choose from ten scrumptious options like sprinkles, chocolate syrup, mini marshmallows, M&M's and more. If you can't decide, additional fun toppings can be added for just 99 cents each. The sky's the limit! It wouldn't be a true sundae without a cherry on top to finish it off. 
2. Pineapple Twist Served in a Fresh Pineapple
This should be considered an attraction unto itself because the Pineapple Twist is awesome. Enjoy pineapple soft-serve swirled with vanilla ice cream piled high inside a real hollowed out pineapple. It's topped with fresh pineapple slices, whipped cream and of course a cherry on top. You won't believe how massive this decadent dessert really is until you see it for yourself. Grab two (or more) spoons because you're going to want to share it with friends. 
3. Shamu Premium Ice Cream Bar
You can never go wrong with the classics. This premium ice cream bar is made of all-natural vanilla ice cream on a popsicle stick that's dipped into rich chocolaty coating, and shaped like the world-famous Shamu. As you bite into it, the chocolate coating cracks and melts in your mouth instantly. These bars are always a hit with kids on a hot day, but also make a quick and easy snack for everyone of all ages. 
4. Shamu's Seaberry Splash Dippin' Dots
This exclusive flavor is something you can only get at SeaWorld. Dippin' Dots are a unique frozen treat made of flash-frozen, ultra-cold little dots that transform into creamy ice cream in your mouth. Shamu's Seaberry Splash takes it to a whole new level. This specialty mix is made up of raspberry and vanilla flavored yogurt Dippin' Dots. That's right – it's made of creamy frozen yogurt instead of just regular ice cream. Plus, this delicious snack also includes dark chocolate candy whale tale pieces mixed in. All together it's a unique and delicious dessert you can't find anywhere else.
5. Mix-It-Up Icees
Head on over to the High Seas Market near Kraken Unleashed for a refreshing Icee of your own creation. Choose from a wide variety of flavors – or mix it up to create something entirely new! These fruit-flavored frozen drinks are the best thing to help beat the heat and are extremely refreshing after a wild ride on the Kraken Unleashed VR coaster or after taking a plunge down Journey to Atlantis. You can get multi-flavor Icees at other snack stands throughout the park as well.