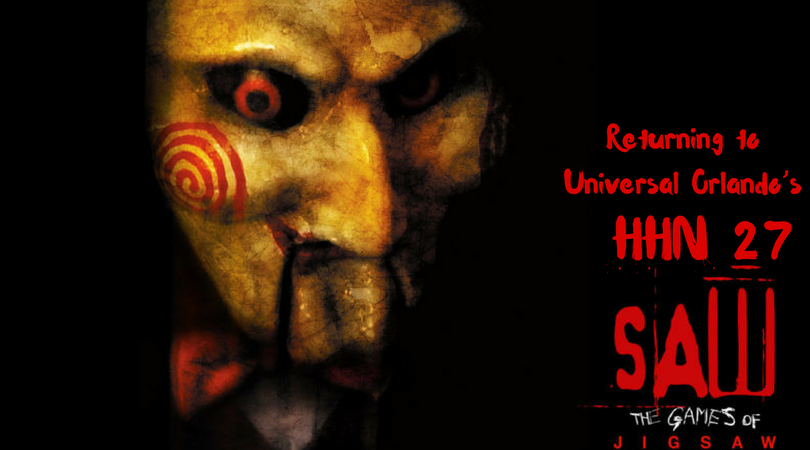 SAW Returning to Universal Orlando's HHN 27
The SAW series – one of the highest grossing horror film franchises of all time – makes its return to "Halloween Horror Nights," bringing the blockbuster's most terrifying traps to life in an all-new original maze opening at Universal Studios Hollywood and Universal Orlando Resort, beginning September 15, 2017.
Get ready for more nights of fright at Universal Orlando than ever before, because Halloween Horror Nights 2017 dates have been announced, and select tickets and vacation packages are now on sale. HHN will begin Sept. 15 and run on 34 select nights between then and Nov. 4. That's three more nights than in 2016 and the most in the event's history, Universal says.
The Halloween Horror Nights 2017 dates currently listed on Universal Orlando's online calendar are as follows:
Friday 9/15, Saturday 9/16, Sunday 9/17
Thursday 9/21, Friday 9/22, Saturday 9/23, Sunday 9/24
Friday 9/29, Saturday 9/30, Sunday 10/1
Wednesday 10/4, Thursday 10/5, Friday 10/6, Saturday 10/7, Sunday 10/8
Wednesday 10/11, Thursday 10/12, Friday 10/13, Saturday 10/14, Sunday 10/15
Wednesday 10/18, Thursday 10/19, Friday 10/20, Saturday 10/21, Sunday 10/22
Wednesday 10/25, Thursday 10/26, Friday 10/27, Saturday 10/28, Sunday 10/29, Monday 10/30, Tuesday 10/31
Friday 11/3, Saturday 11/4