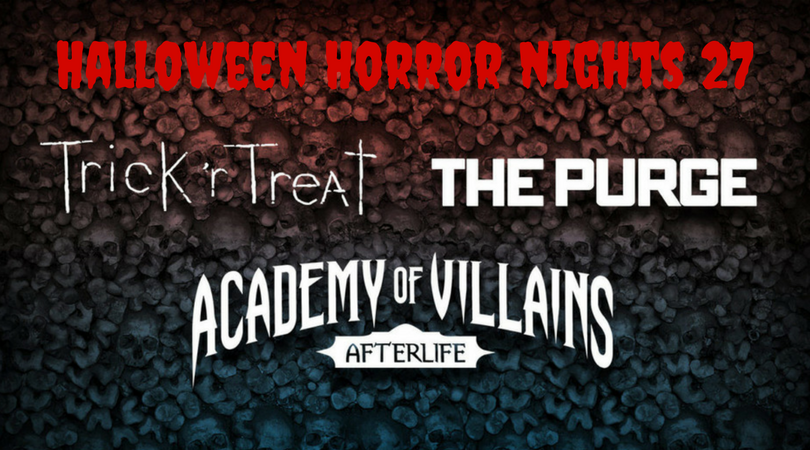 Trick 'r Treat and The Purge to Haunt The Streets of Universal Orlando's HHN 27
There is one aspect of Universal Orlando's Halloween Horror Nights no one can escape… the SCARE ZONES. They're the first and last things you'll experience, and it's our chance to make sure there is no way to hide from the scares. This Halloween Horror Nights, we're inviting you to join the celebration of blood and bone at what can only be called The Festival of the Deadliest – an ancient tradition from the depths of where nightmares are born.
You'll find the heart of the Festival on the streets of Hollywood in Universal Studios Florida, but its claws have spread throughout Horror Nights.
Trick 'r Treat
As a longtime fan of classic horror anthology films, Trick 'r Treat is a favorite of mine that pays perfect homage to that genre. In this zone, you'll have the opportunity to come face-to-face with several characters from the film, and learn for yourself what happens when you don't follow the rules.
The Purge
Next up, we have a returning story to our New York streets with The Purge. This time, our approach was to create a zone that showed how we think the events of a Purge night might play out in our streets. There are some fan favorites returning such as our auction and a very polite gentleman. We also have some new surprises in store. 
Altars of Horror
Near the front gate, on Avenue of the Stars, we have our Altars of Horror. For me, this zone is very exciting because we're bringing something to the streets for our horror fans that we have never done before. In this zone, we're taking some of the larger than life characters featured in this year's houses, and letting them have their own scare zone.
Invasion!
Set in a time decades ago, our docks in San Francisco find themselves the victim of an INVASION! Visitors from far beyond have crashed their vessel, and are now wreaking havoc on the streets of San Francisco. They aren't just here to destroy; these invaders are also on a mission to learn everything they can about us humans. Careful, or you may find yourself on the experiment table at the mercy of an alien scientist.
Roaming Hordes
Lastly, no Halloween Horror Nights would be complete without roaming hordes. This time, it's the smell of the greasepaint, the roar of the chainsaw. Unhappy with how popular culture has made clowns scary, this grotesque gang of gigglers has risen from the grave determined to show the world that if you want scary clowns, they're going to make sure you get your worst nightmare.
Academy of Villians: Afterlife
But wait! There's more. The question is, "can you handle more?" I'm happy to share ACADEMY OF VILLAINS: AFTERLIFE will be returning to put on an all-new killer performance. This group of powerhouse artists will make you bear witness to what happens after we leave this life. They're going to give you one mind-blowing and shocking dance performance that will escort you from this world to the great beyond.
As you can see, the streets will be alive with plenty of horror, mayhem and celebration. The opportunity to bring favorite horror films to life and tell our own unique horror stories makes every day a thrill.
Announcements

Trick 'r Treat and The Purge to Haunt the Streets of Halloween Horror Nights™
5 killer scare zones and the return of Academy of Villains. 
 
Bill and Ted's Excellent Halloween Adventure 2017: The Farewell Tour
 
SAW: The Games of Jigsaw Coming to Halloween Horror Nights™
We want to play a game 
Ash vs Evil Dead Brings the Battle of a Lifetime to Halloween Horror Nights™
Groovy. 
By: Patrick Braillard